Celebrate Christmas at Sugar House Island this December as we host seasonal workshops, live entertainment, food and drink offers, and a festive skating rink.
The Big Weekend
Head down to Dane's Yard between Friday 8th and Sunday 10th December for an incredible weekend full of live music and entertainment, scrumptious food and drink and hours of festive fun, open to everyone.
Dates: 8th, 9th & 10th December, 12:00 – 18:00, at Dane's Yard, Sugar House Island
A very crafty Christmas
We're bringing a programme of incredible workshops to Sugar House Island this December. Activities range from Christmas tree pot painting by renowned interiors influencer 'House Homo', to bespoke scent making workshops by 'The Experimental Perfume Club' and so much more in between. There's a little something for everyone, come and unleash your creativity and celebrate the festive season with us in style.
Our family focused workshops will be held at Jim & Tonic's The Print House, whilst the adult workshops will be in our brand-new Christmas pop-up unit in Chimney Walk, 6 Sugar House Lane. Bookings are required for all workshops, see our individual event pages to book your place.
For more information and to book, keep an eye on our events listings for the pop up workshop and Jim & Tonic's event page for all other events.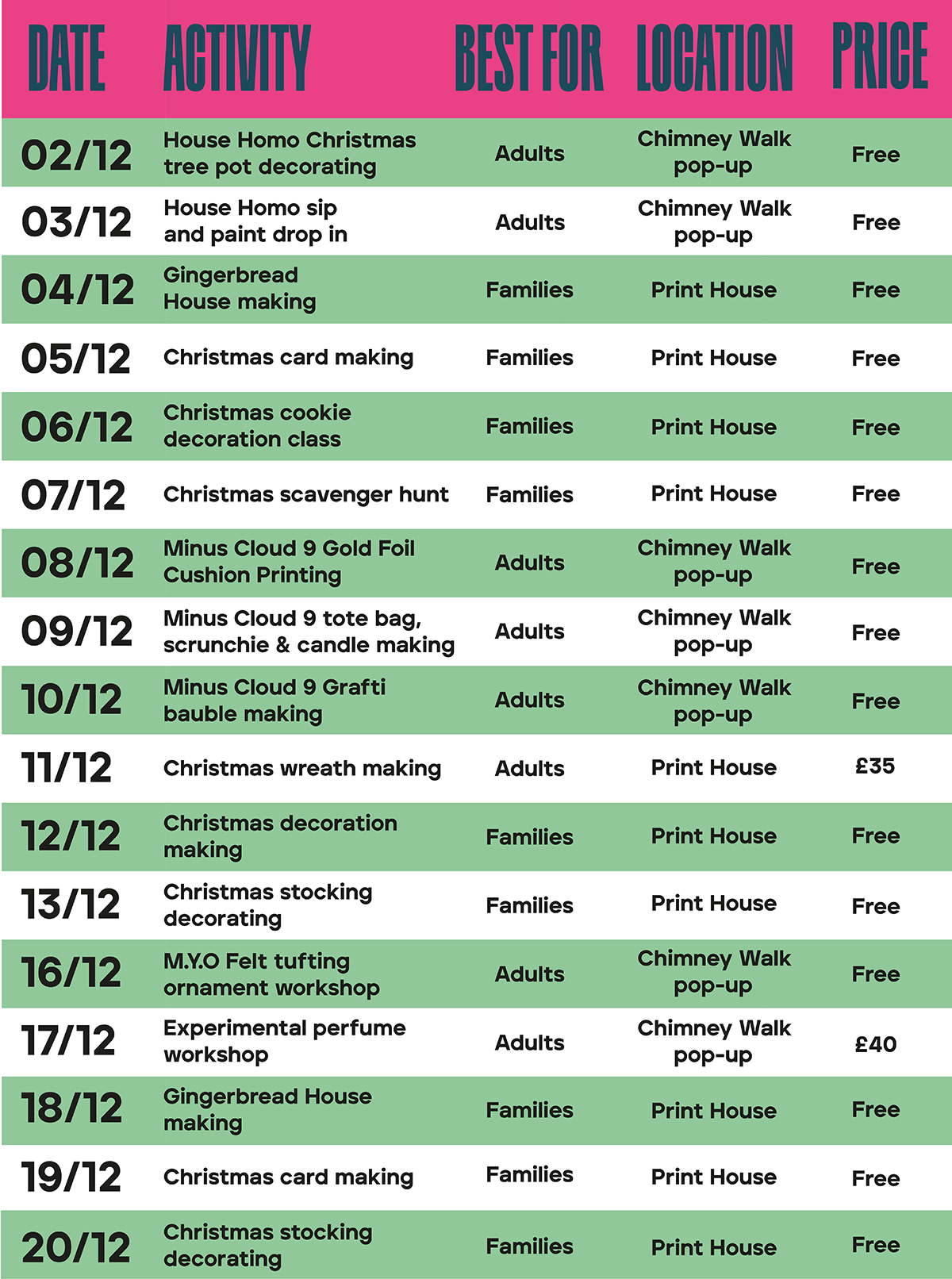 And on top of all that, we have some extra special food and drink offers from our friends at VIP Dog and Crosstown Doughnuts over the Big Weekend 8th-10th December. Follow the links below to sign up.
Please note, the offer is limited to one doughnut per person, to be redeemed at the Sugar House Island Christmas event between 8-10th December. Limited number of free doughnuts available.